VOA Late on Trump Plea
Voice of America's English News Global Website Lags for Over Three Hours on Reporting Trump Not Guilty Plea
USAGM Watch Commentary
On a story with huge national significance and major interest to Voice of America news consumers, VOA's main English website lagged for more than three hours in reporting Donald Trump's not guilty plea along with associated details.
The lead story on both VOA's home page and under its USA news section contained an initial 5:24 AM time mark story detailing the upcoming arraignment of Trump at the U.S District Court located a short walk from VOA's headquarters on the national mall.
A story time marked at 3:54 PM saying that Trump was "facing" arraignment, and with various outdated elements, remained up and unchanged until approximately 7:12 PM when VOA's newsroom finally got around to replacing it.
VOA has a history of similar failures in reporting rapidly-breaking news stories, many of these reported by BBG Watch and USAGM Watch, an independent website that has served as an investigative watchdog.
On August 3rd, as Trump was at the courthouse, competing media reported the guilty plea, including the BBC, RT in Russia, CNN, MSNBC, and others. VOA has operated for decades on a rule requiring at least two independent sources.
But major news agencies such as the The Associated Press, along with The New York Times, Washington Post and others reported the guilty plea well before 4:30 PM EDT.
VOA's inability to update its story on the organization's main global website was puzzling, but not surprising. Arguably still the main competition for VOA, the BBC routinely undertakes live coverage of major U.S. events with multiple reporters often on-the-ground, while VOA doesn't bother with live reporting.
The most recent example of this, prior to Thursday's arraignment of Trump in Washington, DC was in Miami, Florida when Trump was arraigned on charges connected with classified documents at his Mar-a-Lago home.
The BBC provided hours of live coverage of that event with reporters anchoring from Miami and London.
VOA officials or those heading the organization's parent agency, the U.S. Agency for Global Media, are not known to have ever publicly acknowledged the breaking news failures, but have routinely dismissed observations by outside critics who draw attention to them.
Top executives of the VOA as well as USAGM have salaries that are at the highest levels of U.S. federal employment (GS-14 and above and Senior Executive Service) in the mid to high three figure range.
The USAGM requested budget for FY 2024 is approximately $940 million, though the agency has been under fire from House Republicans on Capitol Hill who have alleged that corruption in USAGM is a problem.
Representative Michael McCaul (R-TX), the current chairman of the House Foreign Affairs Committee, has accused agency official of stonewalling in responding fully to questions he has submitted since 2022.
In a July 24th statement, McCaul said his two-year investigation had "uncovered alarming evidence of misconduct and negligence at the senior-most levels of the agency."
McCaul has been investigating one case in which, according to his statement, "officials shelved credible allegations, including instances of waste of taxpayer funds, credentialing fraud, and abuse of office, and offered not so much as a slap on the wrist for relevant actors."
This story was reported first on Facebook by Dan Robinson, former VOA Chief White House correspondent, congressional correspondent, foreign correspondent, and foreign language service chief.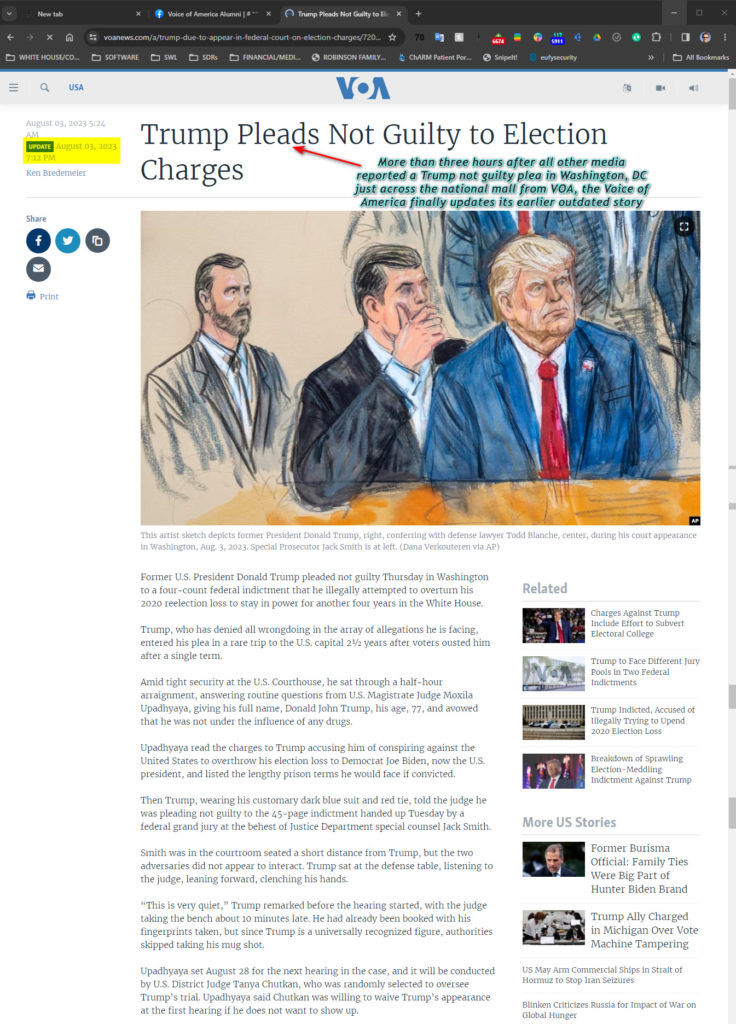 VOA-Trump UPDATE 2312 UTC 7-12 PM EDT
Trump STILL Facing Arraignment 2218 UTC
VOA – Trump HOME Page as of 2214 UTC 6-14 EDT
VOA – Trump HOME Page as of 2214 UTC 6-14 EDT.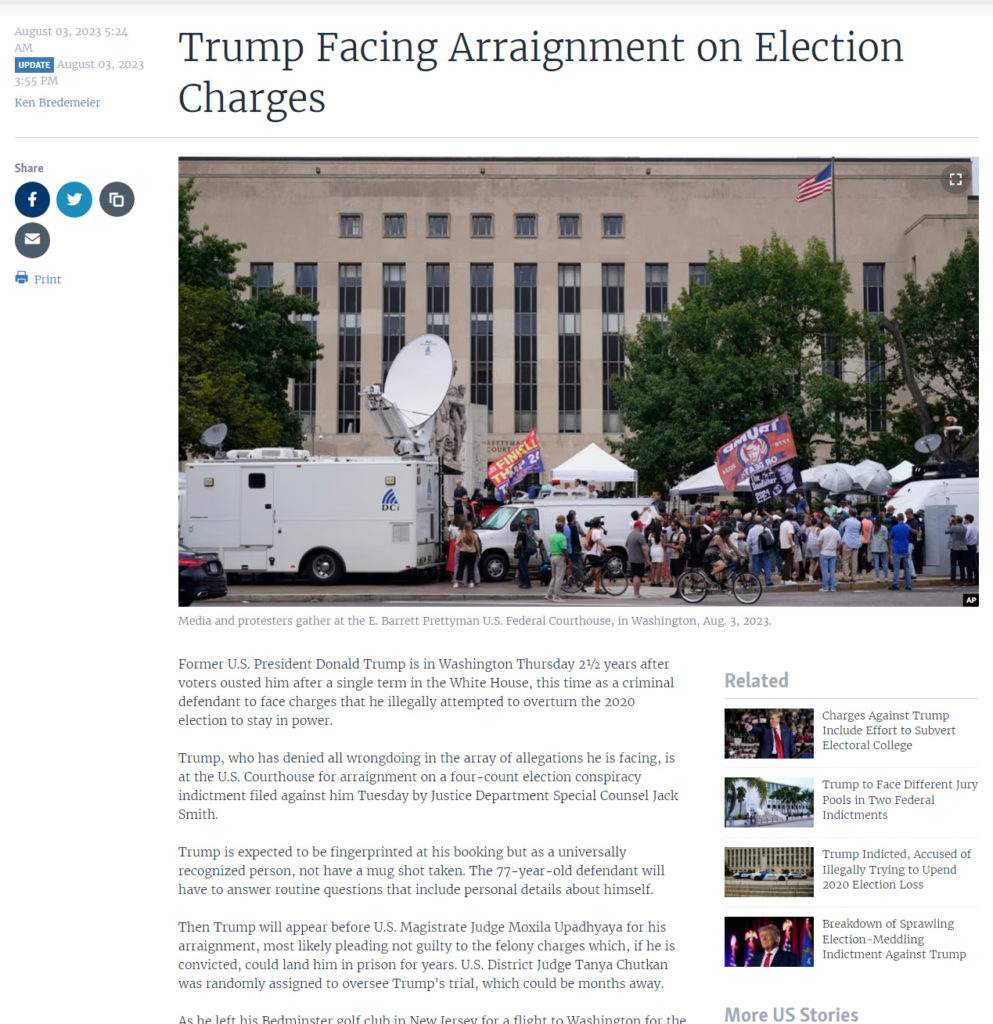 VOA – Trump as of 2155 UTC 1755 EDT unchanged.
VOA-BBC-Trump.
Screenshot_20230803_163906_Chrome.
Screenshot_20230803_163837_BBC News.
VOA-Trump 2102 UTC 5-02 PM EDT with notes.
VOA-Trump 2102 UTC 5-02 PM EDT.
VOA-Trump 2052 UTC 4-50 PM.